Life hurdles and goals: inspirational story of Lattupalli Harish Kumar
It had been more than 70 days of lockdown throughout the country in India due to the coronavirus pandemic. People around the globe were doing various fitness activities at home, whether it's running, yoga, meditation, exercise or cycling. The world bicycle day was also approaching on 03 of June 2020. During normal times, we used to plan group cycle rides round the city and nearby hills. This year we could move out due to lockdown. So, I decided to organise a virtual cycling event that can be done at home.
The event was planned, designed and published on websites and social media. People from all parts of the country got registered for the event activities which includes Cycling at home, cleaning your bike, cycling upside down, sharing your cycling stories and even a selfie with a bicycle. The participants have to send pictures and videos to us. On event day we started getting pictures, videos and stories from hundreds of participants. While checking the pictures, I found a picture of a guy riding cycle outside his colony. I asked him to send a picture of home activity only. After a few minutes he sent the pictures. Now I observed something uncommon in his pictures and out of curiosity checked all the pictures and videos sent by him. I observed he dont have one hand, and he is easily riding a bicycle.
"Your present situation is not your final destination, the best is yet to come"
Born on 14 November 1997, in Hyderabad in a poor family, Lattupalli Harish Kumar is the youngest of three siblings. His father is a daily wage construction worker and mother works as a maid. Since childhood Harish was very passionate about cycling. At the age of 12 years when other kids of his age were being pampered at home and playing with toys, Harish worked as a newspaper boy to support his family. His day starts with cycling to a newspaper agency, collecting newspapers and then supplying them to around hundreds of houses of kothapet locality in city of hyderabad. Bicycling was the only way to commute for him, he used to pedal to school daily.
Harish has been very good in academics and sports since his schooling. After completing his tenth standard, Harish got selected for Polytechnic. Being from a poor financial background, Harish used to pedal to his college daily while his classmates used to come on bikes, auto or bus. Being an ambitious student he applied for the engineering entrance exam and got selected with a good rank. On getting selected in engineering Harish and his four friends decided to visit Bhadrachalam temple, to take blessings of god Rama and goddess Sita for the new journey of life, they were very excited. The guys never boarded a train, so decided to experience their first train journey.
But, his life took a u-turn on 29 May 2016 when they got off on the train at a station from where they had to take an auto for the temple. While they were crossing a track a high tension wire got charged and attracted Harish's left hand and high voltage current passed through the left part of his body, Harish fell unconscious. His friends took him to hospital and informed his parents about the incident. Due to the current and high voltage his hand became black and hard as wood, it was burnt, his left leg was not functioning.
Harish was in an unconscious stage in hospitals for six long months and went through multiple surgeries and when consciousness came, he realised that he had lost his left hand till shoulder and left leg below knee. Knowing the loss he cried a lot, and could't imagine his life with one hand and one leg. He was in pain. He was very tense, demotivated and worried about his life, his future and his career.
Soon, he realised that he couldn't change his present physical situation, it is not in his control. But he can control his mind and change his mindset. So, he started watching motivational videos. He decided to do something in life and not to cry over the loss. He realised that he had the courage and strength not only to survive but achieve something in life. It was not that easy that he thought, but he didn't give up, every activity has to be relearned be it washing, bathing, eating, shaving, sitting, sleeping, writing, standing, walking every little movement. The trauma needs to be overcomed.
His brother who is a cab driver, got him a jaipur leg. Harish was very happy to get the artificial leg, now he could stand without anyone's support. He started moving slowly with the new leg and started practicing walking daily. His brother helped him to get admission to engineering college. He started walking to the bus stop and into college campus.
He joined a gym near his home to build his physical health and stamina. Dared to jump into the swimming pool and re learnt this time with one hand and a part leg. He was not only enjoying but overjoyed for being able to float and move forward with his splashing legs. He had developed the never give up attitude.
He took tuitions and with the earned money bought a bicycle to start cycling again. He started practicing cycling again, this time he had to handle it with one hand and one artificial leg. Getting on cycle, balancing it, pedalling and controlling with only one hand was not easy, he had to learn everything from scratch, but Harish was determined. He practiced very hard day and night. Fell many times, but every time he got up with more energy, more enthusiasm and more confidence. Finally he did it and started commuting comfortably. He practices cycling every morning.
He started running and gained confidence to bear the pain, sometimes ruptured and bleeding skin, but his grit has not been lowered by these physical hurdles. In 2019 Harish got to know about the Airtel Hyderabad Marathon 2019 through facebook, he was confident but was in little doubt whether he could run or not. He registered and ran five kilometers and completed it. This boosted his confidence and now Harish has set a new goal for himself to cycle from Kashmir to Kanyakumari. He would be the first double amputee to do this.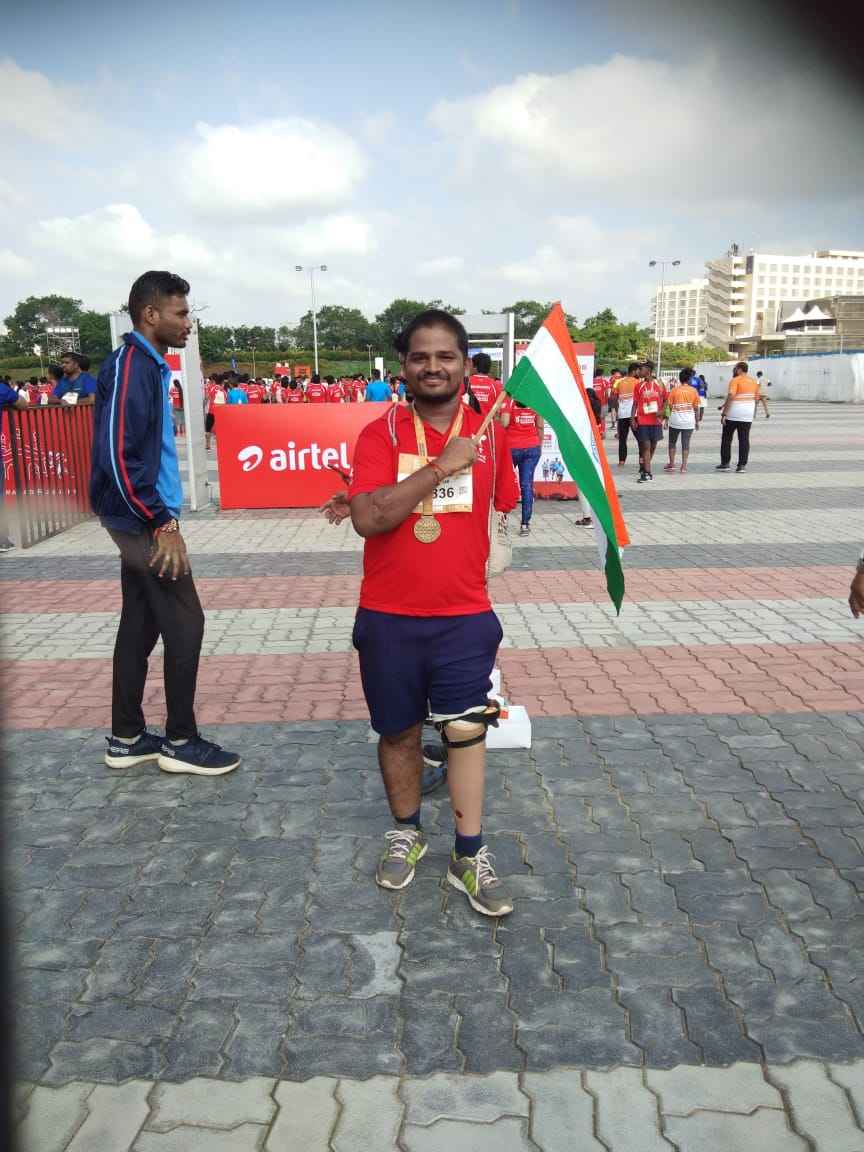 While I am writing this, I got to know that Harish has cleared and secured a seat in prestigious and renowned Indian Institute of Technology(IIT) Guwahati for pursuing M.Tech.
"It's my second birth, given to me by my family members. I wish to make them happy and proud, I will achieve my goals through my strength, courage and hard work" Said Harish.
He is the role model for many to learn that do not look at hurdles but only at the goals. Harish proved that poor economic background, physical disability and other life issues and situations can be resolved by a positive mindset.
We wish him all the strength and courage.
"Success is not final, failure is not fatal: it is the courage to continue that counts."